Thursday, April 23 - scramble UPDATE!
We are super excited now to be featuring ...
SPECIAL GUEST QUARTET
... from downeast Portland, Maine:
"Exchange Street Quartet"
(ESQ)
Tenor: Ryan Norfleet
Lead: Miles Hunt
Bass: Mike Soper
Baritone: George Feinberg
Keene guys say: "Thank you, ESQ, gentlemen, for saving us! We really appreciate your assistance by jumping-in at the last-minute request and replacing our original booked guest quartet." OK! Let's have some fun! Oh, yeah!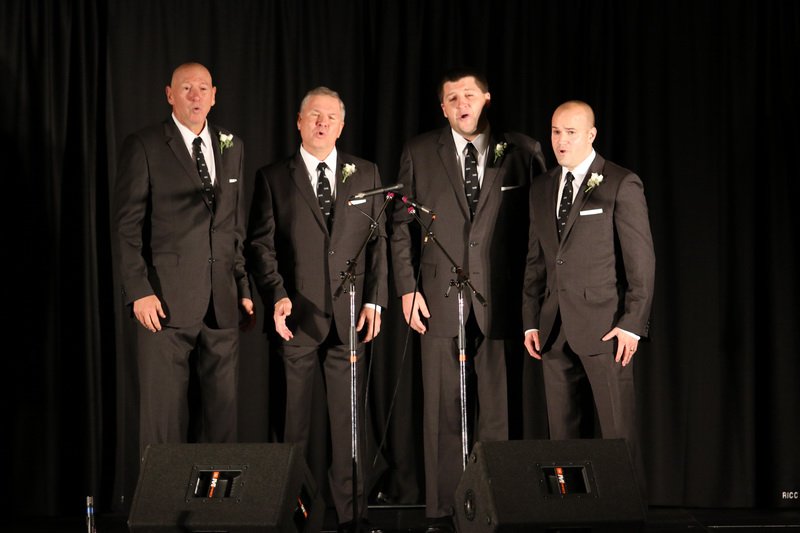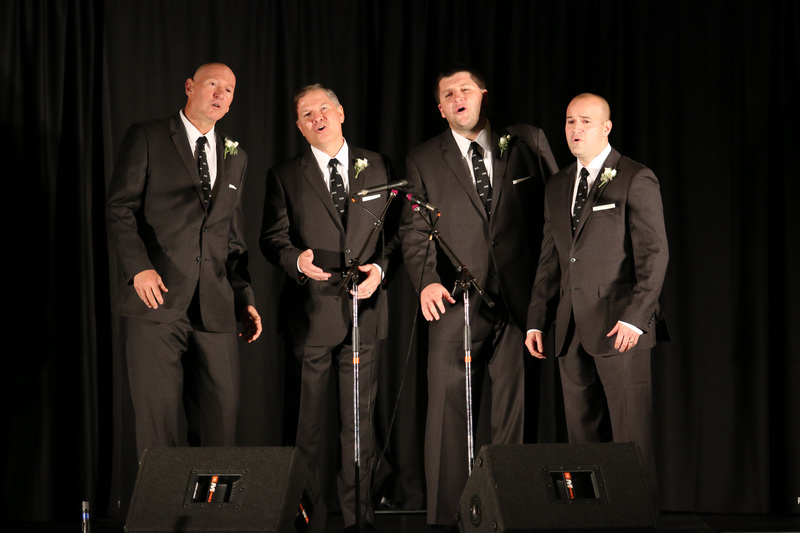 Exchange Street Quartet is now not only your BHS Granite & Pine Division Quartet Champions, but also Northeastern District 5th place medalists! Exchange Street members represent over 50 years in the Barbershop Harmony Society. Several of the members are well known in the Northeastern District, having sung in various medalist quartets at the District contest. The quartet formed organically as four members of the Portland Downeasters that enjoyed each other's company. We are excited, too, to be helping our comrades and now performing for the Keene & Monadnock audience! See YOU from the stage on Saturday, May 16!
PLEASE NOTE the change: TIMEPIECE QUARTET from Boston was our original, booked Guest Quartet for this 63rd Annual Show. However, the foursome, on Sunday, April 19 won 1st Place, top-honors, in the regional "Harmony Sweepstakes" competition held at Tufts University in Boston. Now they are headed to San Francisco for the May 16 Finals Contest! It is a short window and short notice. They were very sorry to learn of this double-booked conflict - and we agreed, in Keene, easily, that they MUST continue this amazing wave and go to California! They have been extremely cooperative and considerate - finding a new quartet to commit for the Keene chapter show - especially on such short notice. Our sincere thanks, congratulations and best wishes to Timepiece Quartet. Knock 'em over with glorious barbershop harmony, guys! Good luck. Hard work.
GENERAL ADMISSION SEATING • TICKETS
B U Y I N A D V A N C E and S A V E !
$15 Adult - Advance purchase only price. $20 for All-Adults - at the door.
$12 Adult - Advance purchase only - U.S. Veterans & Seniors 65+ ($20 at the door.)
Youth - under 12 - FREE. (Note: Pink tickets still read: Timepiece Quartet)
Buy tickets now - 4 WAYS!
Online

Area stores,

From members

Via Phone, Email or Contact Form reservation (discounted, pay advance price at the door).
1. We use the online, safe, easy and secure services of Eventbrite.
Pay with your PayPal account or any credit card! Select the orange button:
2. In Keene at:
YOUR KITCHEN STORE - Main St. Downtown Keene
TOADSTOOL BOOKSHOP - Colony Mill Marketplace
HANNAFORD SUPERMARKET - West St. Shopping Center
In Peterborough at:
Toadstool Bookshop - Depot Square
In Brattleboro, VT at:
[ none at this time (suggestions welcome!) ]
3. Through ANY Member of the Keene Cheshiremen Chorus!
4. Call - Email - Fill Form - Reservations:
4a. By calling the Cheshiremen Hotline, anytime: 1-877-31B-SHOP (1-877-312-7467)
4b. By emailing us at: tickets@cheshiremen.org << select link <<
4c. By using the Comprehensive Contact Form. << select link <<
Golly Gee - I don't think we could make this any easier! Thanks!
Annual Show ARCHIVES (future content)